Meet the Team - Adrian Reedy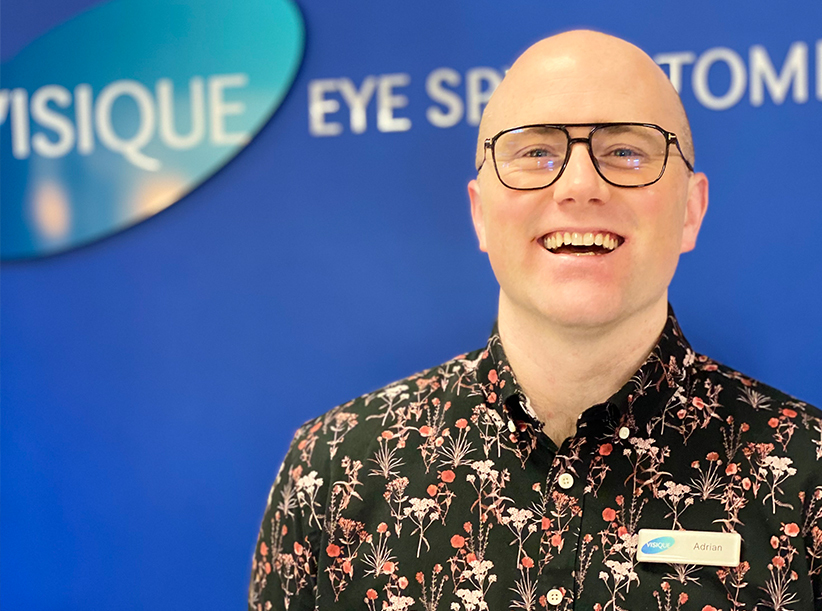 Up next in our Meet the Team series is Adrian Reedy, Visique Eye Spy's in-house truly skilled screener for Irlen syndrome.
Read on to learn about Adrian, his role at Visique Eye Spy, and how he will be helping you with your eye health and care when you visit us.
How long have you worked at Eye Spy?
I've worked at Visique Eye Spy for over 2 years.
Tell us about your role - what does a qualified Irlen screener do?
My role as a qualified Irlen screener is to take clients through a series of perceptual tasks that challenge their ability to visually process what they are seeing.
Irlen Syndrome is a perceptual processing disorder that, unlike other eye conditions which relate specifically to the health of the eye, affects the brain's ability to process visual information. This problem tends to run in families and is not currently identified by other standard educational or medical tests. It can cause a number of symptoms, from visual distortions and light sensitivity, to slow or inefficient reading, to physical issues like headaches, migraines, and depth perception issues.
Through the screening tasks, we help to identify whether they have signs of Irlen syndrome and also whether colour can make a difference in improving it. After the screening process is complete, I then make a recommendation as to whether further diagnostic testing is needed, This is done with our Optometrist Maile who is the only qualified Irlen diagnostician in the Manawatū.
The prospect of having Irlen syndrome can feel scary for many people, so it is important that our clients feel as comfortable as possible throughout the process. I like to make sure I connect with our clients by helping them to feel understood around the vision problems that they may experience, and by keeping the process as lighthearted as possible. For those that require Irlen spectral filters, it can have a life-changing effect on their quality of life - from young people whose reading has been drastically improved to adults no longer struggling with daily migraines.Some of the results have been astounding!
Why did you decide to get into optometry?
Throughout my life, I have always enjoyed serving and connecting with people. Working in this optometry practice allows me to work as part of a team that is committed to helping people and providing solutions.
Eye care is such an important field that helps kiwis of all ages live happier, healthier lives. Helping people overcome or manage eye problems is something I find incredibly rewarding.
What are your other responsibilities?
In addition to Irlen screening, I offer general optometry services at Visique Eye Spy. Everything from spectacle repairs to helping people select frames that make them look and feel great. I also am integral in booking eye examinations that cover family ocular history, potential vision loss, age-related macular degeneration, or diabetic retinopathy. We screen for eye diseases like diabetes, high blood pressure, dry eyes, and other conditions. Through a comprehensive eye exam, we can help you understand how to manage these conditions and protect your eyes. There is never a slow day!
What is the best career lesson you've learned so far?
That it's important to find joy in every day. For me, there's a couple of ways that I like to do this - one of these is singing! My colleagues know by now that I'm a compulsive singer and there's barely a moment that goes by that I'm not sharing a melody or two in the workplace.
Another way that I find joy is by making sure I identify with others in an authentic way by taking a genuine interest in who they are as a person. I find that personal connections with people go a long way in providing quality service for others. The power of human connection in being able to serve and meet the needs of others means the barriers are minimised or eliminated. You can understand their needs better, you can help them to build trust so they can ask the questions they need to, and it helps them feel comfortable with coming back again because you know and understand them. It is amazing how a joyful disposition can have a profound effect on those around you.
How do you start your day normally?
My day normally starts at 5.30 am with an early morning workout, followed by a good breakfast. Among the hustle and bustle of the morning routine with 2 young sons, I also try to make sure I spend some quality time connecting with them and my wife to help fuel my day.
What's your best productivity hack?
Approach each day with a positive attitude.
In order to be really productive in the service industry, it is important to have a positive attitude. A positive attitude can help you to keep focused on solutions rather than problems, you have more time to give to others, and you work smarter when you're happy. There are many different demands for serving and meeting the individual needs of others, so for me, maintaining a good work-life balance is vital for keeping a positive attitude as it allows me time to recharge so that I can operate at 100%.
What do you like to do when you aren't working?
One of my favourite things to do with my young family is to get outdoors and explore the world around us whether that's at the beach, river, forest walks, bike rides, or parks - being a Dad is one of my greatest joys. My other joys include playing basketball with friends, watching a good movie, giving service through my church responsibilities, or cranking out some good ol' American style food on my charcoal barbecue.
You'll find Adrian at Visique Eye Spy Monday - Friday, where he'll be working from our Palmerston North optometrist clinic to help all of our patients live happier, healthier lives through eye care. Through team members like Adrian, we're proud to provide the highest level of professional optometry. Pop in and say hi, or call to book an appointment and we'll see you at Visique Eye Spy.